Waffle Irons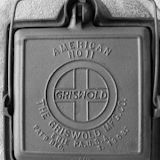 If anything can be said of the number and variety of them seen in the vintage collectibles marketplace, it is that waffle irons were among the most popular of cooking implements, and for a very long time. With a wide array of designs, shapes, and features, as a segment of cast iron collecting, vintage waffle irons can be an all-consuming hobby by themselves.



Waffle irons are known from as early as the 9th century, when similar implements were used to produce thin wafer-like cakes and also communion wafers. The practice of adding leavening agents to the batter, believed to have begun in the 16th or 17th century, spurred the design of irons to make thicker, more deeply-pocketed cakes, culminating in what we today know as "Belgian" waffles.
Nearly every major U.S. manufacturer of cast iron ware in the late 19th and early 20th centuries produced at least one model of waffle iron. Most offered round irons in multiple sizes, with a few making square and oblong designs as well. Griswold, as with their gem pans, was quite prolific, making a plethora of sizes, shapes, and patterns, plus commercial models in addition to those for home use.
As with other cast iron cookware, waffle irons were also produced in aluminum. Typically, the patterns for the aluminum versions were virtually identical to the iron, but with different pattern or catalog numbers. Bases supplied with the aluminum, however, were still made of cast iron.
An upsurge in popularity of waffle making in the late 18th century roughly coincided with the advent of wood-burning stoves, so irons were designed with them in mind. As with pots and pans, different diameter waffle irons and bases were used depending on the size of stove eye openings. Some models were marketed as being usable over more than one size stove eye and were marked as such, e.g. "6 & 7", or "8 & 9". Early bases were low in height, as the iron would be unobstructed when rotated over an open stove eye. Gas stove tops later coming into vogue would necessitate taller bases to allow the rotating iron to clear the burner grate.
Manufacturers prided themselves in waffle iron design and innovation, patenting each advance and often incribing its number or the date awarded on the irons themselves. Various hinges, handles, patterns, stop mechanisms, and bases were developed over the years. Makers understood the need for catching the buyer's fancy, as well as for sound mechanical design and for efficiencies of production.

All manner of waffle patterns were seen, from squares to diamonds to hexagons to stars and hearts. Playing card suit shapes were also popular as designs.
Irons making the typical square-impressioned waffles were seen in traditional "American" patterns, either round or square, with shallow paddles having numerous small square nubs, or in "French" patterns with deeper paddles having larger, less densely-spaced nubs. The latter would come to be known as "Belgian" waffles.

Irons were also seen with pattern profiles the reverse of the norm, with a raised "lattice" of lines or shapes forming the waffle impressions.
Note: Stover Mfg. Co. waffle irons were actually made with paddles whose patterns were not identical. The maker touted this as being a feature which produced waffles superior to those of other makers. One paddle has the classic "American" square nubs; the other a grid of cross-shaped nubs. Stover also produced irons under the Ideal brand, and they use the non-matching irons as well.
Waffle iron designs were also seen modified for other uses. Paddles without interior nubs became sandwich toasters. And at least two manufacturers combined cornbread stick pan shapes and waffle iron paddles to create corn dog makers.
The fixed hinges of early waffle iron pairs gave way to separable hinges which lowered production costs in addition to eliminating an obstacle to easy cleaning.
Handles and hinges were designed to allow fluidity of turning movement while securely keeping the paddles together. Handles were either made of turned wood, tempered steel coil, or, rarely, part of the iron casting itself.
Although ball type hinges were common, Griswold irons are known with six different hinge designs, including "button", "acorn", "finger", "scissor", "ball", and "CLOWS". Wapak and Sidney Hollow Ware irons are seen with "cylinder" hinges.

Griswold waffle iron hinge variations.
In time, pattern makers designed models such that both the paddles in a set of irons could be produced from the same pattern. Examples of this strategy can be seen in the later Griswold, the Griswold CLOWS, and the later Wagner Ware irons.
Although the paddles were either bare iron or aluminum, the bases were always cast iron and were often painted with a black lacquer finish called japanning, so named for its similarity to Asian lacquerwork. Finding bases with original japanning intact is rare, and rather than attempt to replicate it, collectors often opt to strip the remainder and simply apply a coat of manual seasoning.
In collecting vintage waffle irons, care must often be taken to make sure what is being offered is actually a matched set. What may at first glance appear to be a set can often end up being a conglomeration of found stray parts. Griswold irons, particularly, underwent many minor design changes which would still allow paddles to fit together but not necessarily function perfectly with a given base. Therefore, it is prudent to first ascertain that pattern numbers correspond to an actual pair, that trademarks on each paddle match, that leveling tabs if present mirror each other, and that notches in the base match up to the position of the leveling tabs before further assessing the condition of the piece for possible purchase.
Pattern numbers are cast in all Griswold waffle iron pans and rings. Here are the parts pattern numbers for Griswold round waffle irons and bases:
Size
Pans
Low
Bailed
Ring
High
Bailed
Ring
Low
Handle
Ring
High
Handle
Ring
Pans
Low
Handle
Ring
High
Handle
Ring
6 Waffle Iron
305-306
307
324
967-971
970
7 Waffle Iron
308-309
310
311
323
326
889-890
972
2428
8 Waffle Iron
314-315
913
915
327
328
885-886
975
985
9 Waffle Iron
316-317
318
319
329
330
979-980
978
2429
8 Heart-Star Waffle Iron
919-920
913
915
327
328
9 Heart-Star Waffle Iron
932-933
318
319
329
330
Size
Pans
Low
Bailed
Ring
High
Bailed
Ring
Low
Handle
Ring
High
Handle
Ring
6 Waffle Iron
141
142
143
7 Waffle Iron
146
147
148
149
150
8 Waffle Iron
151
152
153
154
155
9 Waffle Iron
156
157
158
159
160
8 Heart-Star Waffle Iron
928
152
153
154
155
9 Heart-Star Waffle Iron
929
157
158
159
160
Waffle History
Waffles and similarly-made cakes enjoy popularity in many cultures.
Krumkake (plural krumkaker), meaning bent or curved cake, is a Norwegian waffle cookie consisting of flour, butter, eggs, sugar, and cream, and is traditionally made during the Christmas season.
A special decorative two-sided iron griddle, similar to a waffle iron, is used to bake the thin round cakes. While still hot, the 5-8 inch krumkake are rolled into small cones around a wooden or plastic form. Krumkake are eaten plain or filled with whipped cream or other fillings.

Griswold Krumkake Iron pattern detail.
Pizzelle are traditional Italian waffle cookies made from flour, eggs, sugar, butter or vegetable oil, and flavoring (often vanilla, anise, or lemon zest). They can be hard and crisp or soft and chewy depending on the ingredients and method of preparation. Typically, the iron stamps a snowflake pattern onto both sides.
Pizzelle originated in the Abruzzo region of south-central Italy, the name derived from the Italian word for "round" and "flat", similar to the word pizza. Many other cultures have a pizzelle-type cookie, such as the Norwegian Krumkake. Pizzelle are popular at Christmas and Easter, and are often found at Italian weddings.

Peerless Pizzelle Iron pattern detail.
The Belgian waffles we know today are actually more of an American creation. In 1958, Belgian restauranteur Maurice Vermersch showcased his version of the Brussels waffle (Brusselse Wafel), first seen in the mid-1800s, at Expo 58 in Brussels. Plans were made to bring them to America, but another entrepreneur who had sold his own with some success at the 1962 Seattle World's Fair beat Vermersch to the punch. It was not until 1964, when Vermersch finally debuted his "Bel-Gem" waffles at the New York World's Fair, that they took hold in the U.S. So-named to work around Americans' lack of familiarity with Brussels geographically, the "Bel-Gem" label stuck and quickly morphed into the distinctly American concept of the "Belgian waffle". Modern American "Belgian waffles" are actually a hybrid of pre-existing American waffle types and ingredients, together with attributes of both Vermersch's and true Brussels waffles.