Cast Metal Cookware Toys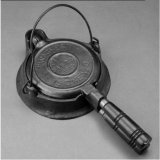 In online auctions, you'll often see diminutive pieces of brand name cast metal cookware described as "salesmen's samples". While it's possible they may have been used as such, in reality they were specifically produced as toys for children in the late 1800s and early to mid-1900s. Catalogs and advertising of the era as well as the marked containers confirm the original purpose. Originally sold often in sets of multiple pieces, they are, pound for pound, some of the most valuable vintage cast collectibles.
Click on any

icon for a gallery of photos.

What's interesting about these toys is that, for the most part, they were made to the same standards as the full-size cookware they copied. Older toy skillets, kettles, and griddles even exhibit the same swirled grinding marks left by the final polishing step on their cooking surfaces. Although toys, they were intended for actual cooking, hopefully under parental supervision.
Unfortunate for the novice collector, however, is that the most-often counterfeited cast iron pieces are smaller items such as tea size corn stick pans and toy skillets. Fake toy waffle irons abound, most appearing to be from the same source, but with various different manufacturer markings. Sometimes seen are pieces marked as Griswold toy ham boilers, but they are not genuine, either. The upside is that, even to the moderately-experienced eye, the quality and attention to detail shown in the originals is obviously lacking in the knock-offs. See the Reproductions/Counterfeits article for more information on how to identify them.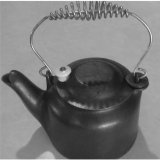 The toys produced consisted primarily of skillets, tea kettles, footed kettles, waffle irons, and both handled and bailed griddles. Griswold even produced some toy Scotch bowls. Most are cast iron, but aluminum pieces were also made, some commanding higher prices as collectibles than the iron. And, just as with their full-size products, some manufacturers also marketed enameled and/or nickel plated versions of their toy pieces.
Toy cooking utensils were offered individually or in sets. Wagner sold sets of 3, 4, or 5 pieces. A 3-piece Wagner "Set #1", for example, consisted of a skillet, a footed (or later, a lipped) kettle, and a waffle iron. A 4-piece "Set #2" added a tea kettle, and the 5-piece "Set #3" that and a bailed griddle.
| | | | | | |
| --- | --- | --- | --- | --- | --- |
| Set: | #1 | #2 | #3 | #4 | #5 |
| Skillet | X | X | X | X | X |
| Footed Kettle | X | X | X | X | X |
| Bailed Griddle | | | X | X | X |
| Tea Kettle | | X | X | | X |
| Waffle Iron | X | X | X | | |
Griswold in the 1930s marketed sets which included a skillet, waffle iron, handled griddle, dutch oven with trivet, and tea kettle. Later, in the 1950s, their "Mother Daughter" sets included a skillet, corn stick pan (the tea size #262), square griddle, and table service dutch oven.
Being loose, small and easily lost, parts like toy skillet lids, toy dutch oven lids and trivets are scarce. Their inclusion with a matching pan can increase its collectible value by more than double.

The toys made by Wagner, Griswold, Favorite, and other name brands date back as far as the late 19th century. Toy waffle irons made by Wagner typically have a 1910 patent date, but there are some occasionally seen with an earlier 1892 patent date inscribed. Toy skillets and other pieces simply marked "Erie" serve as evidence Griswold made toy pieces as early as the late 1800s. Production of toy skillets by Griswold continued up through the 1950s, with later pieces seen marketed for actual adult cooking use as "one egg" skillets.
Many toy cookware pieces underwent design changes right along with those of their full-size counterparts. Wagner toy pieces, for example, are seen marked "Wagner", "Wagner, Sidney, O.", and, later, with the famous stylized Wagner Ware logo. Wagner toy waffle irons are seen with the aforementioned patent date variation, and physical differences like stop tabs, bevel-edged handles, or rimmed bases. Griswold-marked cast iron toy skillets, although all made with inset heat ring and the large block logo, are seen with the early, late, and late grooved handle. Smooth-bottomed toy skillets are few, including the ironically-named "Wagner 1891 Original" and the tiny "A-20" aluminum skillet by Griswold.

In the late 1980s, as part of the commemoration of its 100th anniversary in 1991, Wagner produced toy cookware sets consisting of a skillet, a square handled griddle, a dutch oven, and a corn stick pan. Interesting about this set is the stick pan, which copies the Griswold tea size pan design rather than a Wagner design. The story goes that GHC, owner of the company at the time, unable to find any original Wagner Krusty Korn Kobs patterns to use, instead modified patterns obtained from the purchase of Griswold thirty years earlier.

Other small cast iron toy pots and pans are regularly seen in the marketplace, but who made them and when is typically unclear. We can only estimate according to design and casting technology from what era they come.