I've already posted in the new collector forum but thought I should come and introduce myself. I don't consider myself a cast iron collector but do have many pieces that I cook with. This past spring, my mom had me and my family clean out two of her packed sheds. Most of the junk went straight to the dumpster but there were several nice things that I couldn't bring myself to just toss including a bunch of cast iron pans. Unfortunately, I did throw several pieces into the metal pile which was taken away. One was a huge pan I could barely lift and the other was really small. And there were others that were really coated. (I didn't know anything about soaking them in lye)
So, I finally got around to cleaning and reseasoning the ones I brought home. I will have to post them when I get a chance. The one is gate marked with a pretty handle but I don't need it for cooking. I am keeping some of the pieces but am not sure what I will do with the others as I'm not into ebay selling.
Here's my wall of pans. The one all the way to the right is new (to me). It says Montgomery Ward on the back. I like the size of it. The 3 on the bottom are also all new to me. The chef skillet all the way to the right is wonderful for scrambled eggs.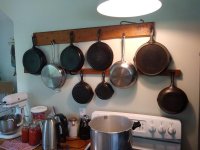 This is probably more of an introduction than necessary but I have enjoyed working with these pans and bringing them back to a useable state.