Not having one in hand to examine personally, it always appears to me, from photos, the rods on these were placed in the molds and cast in, rather than attached later. It doesn't look from your photos like there has been any welding going on on either. What is that hole in the body on the one with the unthreaded rod? It's not a set screw or pin, is it? I was looking at several of these in completed listings and note there's quite a variation in handles in terms of turning detail, finish color and length of the ferrules. I think if whatever you do to replace the handles is sturdy, professional-looking and matches one of the others out there, a prospective buyer would not have grounds for complaint.
My experience with extended electro has been that some pieces come out bare grey, like this one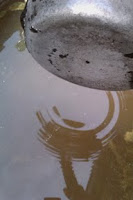 and others with what's like a black oxide. I guess it depends on the maker or the iron they used.