I've been doing this a lot lately, when my supermarket has salmon on sale. It's quick and easy, the recipe is tested and works perfectly. A note about cooking fish in cast iron-- it can leave a residual fishy odor. If your pan is well-seasoned, a final swish with a plastic scrubber and some Dawn dishwashing liquid after your normal cleaning will get rid of it, and it won't harm your seasoning.
Cast Iron Skillet Salmon
1 to 1.25 lb. fresh salmon fillet, skin on
Kosher salt & fresh ground black pepper
1/4 C. plain Greek yogurt
1 T. lemon juice
1/2 t. dill weed plus extra for garnish
Pre-heat cast iron skillet with a tablespoon of canola oil in a 350°F oven. Depending on the size and shape of the salmon filet, slice crosswise in to 4 equal portions, roughly 1½" wide by 5" long. If an edge of the whole piece is markedly thinner, remove it by slicing it away lengthwise from the rest, so the remaining part can be divided crosswise into pieces of roughly the same thickness overall, about 1¼" average. See image below. Season flesh side of salmon with kosher salt and fresh ground black pepper. Remove skillet from oven and place on a burner set to medium. Use spatula to distribute oil evenly, if necessary. Place salmon pieces skin side down and cook for 3 minutes. Flip all pieces over to flesh side down. (If you have a trimmed off thinner piece, place it in the skillet flesh side down now.) Cook for 3 more minutes. Flip all pieces back to skin side down, arranging them so they are not touching. Return skillet to the oven to cook for 8 more minutes. Fish should be opaque throughout, flaky, but still moist. Remove to plate with spatula, and garnish with a pinch of dill. Yield 4-5 4oz. portions. Serve with topping sauce and sauteed green vegetables such as asparagus or string beans.
Topping Sauce
Whisk together yogurt, lemon juice, ¼t. salt, ¼t. pepper, and ½t. dill. Serve either on the side or with a dollop on each piece.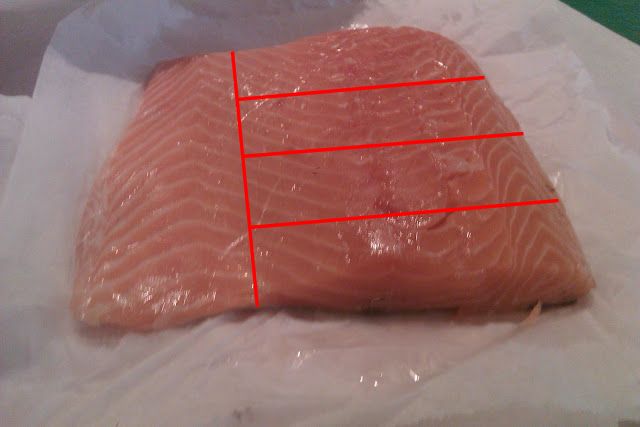 Alternately, a
mango salsa
goes quite well with salmon:
1 C. finely diced ripe mango
1/4 C. finely diced red onion
1T. finely chopped fresh cilantro
juice of 1/2 lime
pinch kosher salt
pinch cumin
pinch ground chile powder
Mix all at room temp and allow flavors to marry while preparing fish. Top each portion just before serving with a generous couple of spoonfuls.
---------------------
For trout:
1-2 lbs. fresh trout filets, skin off, 1/2" average thickness
Butter or margarine
Light olive oil
Your favorite seasoning blend
Preheat a large skillet (#10 or #12) in the oven to 350. Remove and place on a burner set to medium. Add 1 Tbl. each light olive oil and butter, mixing together to coat bottom of pan. Dust each piece of trout filet lightly on both sides with a preferably low-salt seasoning blend, such as Beazell's Cajun Seasoning. Place trout filets in single layer in skillet, and cook for two minutes on each side. Flip once more and return pan to oven for 5-6 minutes. Remove and serve immediately.